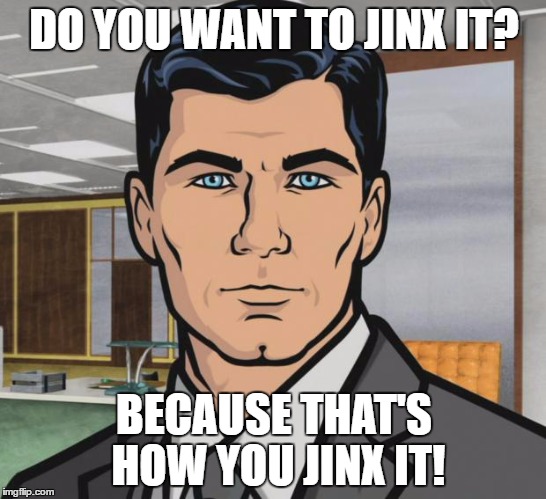 No, not Jinx Monsoon. The infamous Dimivision jinx! There's always one night where everything goes exactly the opposite of how it should go (in my own little not that humble opinion). Yesterday was that night. Assuming it's limited to one night only, that is…
Let's kick things off with an unexpected statement. I actually quite enjoyed semi 3! *insert amazed emoji here* Regardless of the outcome, obviously. There was a nice blend going on, so thumbs up to the producers. Something old, something new, something borrowed and something…pink, purple and blue. Huzzah. But just when I thought things were moving upward, it was the televoting that brought me back down to earth. A bit of a weird experience. The tingle of change that is silently growing exponentially in the Western hemisphere, is quietly trying to sneak in to MF – you know, the non-binary, genderfluid, almost new kind of being that is popping up everywhere and which I'm totally here for. But judging by the results, it'll still be a while before it's really embraced by the big crowds. And here I was, thinking that progressive thinking is a Scandi thing! Silly Dimi. Here's the proof:
The Lovers of Valdaro – Somebody Wants: Well, it turns out that nobody wants… Except me, that is. Totally adored this genderbending concept and loved the spacey act. It's been a while since I've actively enjoyed a G:son song, so colour me amazed. But it suffered from that age old problem in MF: pre-recorded backing vocals. It's basically Dilba (Try Again) all over again, there's so much pre-recorded stuff going on that it takes away from what's actually done on stage. The Swedish voters are sometimes willing to be fooled, but not to this extent. Pity though. Side note: how cute were they together? I'm totally not jealous as all fuck.
Dolly Style – Habibi: So. Fucking. Annoying. I completely get how they're popular, with the colours and the Japanese anime point of view, but NO. Thank you, next.
Martin Stenmarck – Låt Skiten Brinna: I kinda wanna be Martin Stenmarck when I grow up. I mean: he looks good, is a great singer and he somehow manages to get away with shit. Literally. First Las Vegas, now a song with a title that deserves a *insert eye-roll emoji* His intentions may be pure, but come on man. Title notwithstanding, this was actually quite a decent song and I absolutely adored the way they played with camera shots during the verses, very much in the style of Armenia '16 & '17. It did have 'Andra Chansen' written all over it, eller hur?
Lina Hedlund – Victorious: Discolicious, yes. Schlagertastique, that too. But where's that oomph, that zing that lifts it out of the days of yesteryear and transports it to 2019? Lina's confidence should be bottled and sold, I'd order a case of it immediately – and that's presumably that sold this piece of Brie/Cheddar/ Edammer/*insert local cheese here* But really, Sweden? Really? It's got Cascada written all over it. Yes, that it the opposite of feeling either victorious or glorious.
Omar Rudberg – Om Om och Om Igen: I can vividly imagine that the audience at home could be neatly divided into two groups: the ones who admired this youngster for his confidence and the ones who instantly hated him. Well, that was the case at Casa Dimivision yesterday anyway. With myself falling in the former category. I was completely on board, totally digging the relaxed reggae vibe and the way Omar claimed that stage. The falsetto, the choreography, the laidback vibe – he took the opportunity and ran with it. It's a mystery how this was overlooked, didn't something remotely similar make the final only last week? Oh right, I forgot my opening statement here for a moment. Pity. Pity times ten. Sorry for jinxing it, omar.
Rebecka Karlsson – Who I Am: Urgh, another one from the school of 'Let It Go'. I can handle a decent sized portion of self-affirmation, but the more you try and throw it in my face the less I'm inclined to actually feel it. Especially if you're not going to nail those demanding vocals. Too Glee, not really for me.
Jon Henrik Fjällgren – Norrsken: You know, for someone who's trying to emphasize authenticity in his MF-entries it's really amazing how JHF manages to come across as a Laplandic version of Elvis. That white leather sparkly studded outfit was…something. As were other choices in the staging of the ethnic EDM monstrosity, with Rudolph on screen as the hilarical highlight. The fire, the dancing snowflakes, the fog… Put everything in there and it'll taste alright, right? WRONG! Urgh, I just can't with this.
So, there you go. I jinxed the ones I loved, which benefitted the ones that make my skin itch…but hey, entertaining it was. Still not convinced we've heard the winner as of yet. Hello, semi 4?
Meanwhile in other parts of Europe there were actual finals going on. I'll keep my thoughts on winners for my actual previews, but I really need to highlight the two below.
Raiven from Slovenia made it to the top 2 in EMA and I would have adored seeing her in Tel Aviv. This is straight – nay, gay – up my alley: distorted, metallic and so fucking cool.
Dora came back to life in Croatia and we were only in time to watch the snippets. This one jumped right out for all the wrong reasons, so I simply have to include it because this has everything to explain why it's so fun following national finals. Two words: sideways strutting. I mean: car crash. But really: on repeat.